Today's recipes are full of peanut butter/almond butter.  I love almond butter!
I am really working to clean up my eating this month.  I am even trying to create my own recipes. 
Here's one I tried and was successful with this weekend.
Peanut Butter Muffins
Ingredients:
1 1/2 cup Whole Wheat Flour
1 1/2 cup Old Fashioned Whole Grain Oats
1/4 cup Stevia
1 teaspoon baking powder
1/2 teaspoon baking soda
2 tablespoons ground flax seed
3 tablespoons coconut oil (solidified-I microwaved mine)
1 large egg
1 large egg white
3/4 cup almond butter or peanut butter
1 1/2 cup chocolate almond milk
1/2 cup dark chocolate chips (optional)
Directions:
Combine flour, oats, stevia, baking powder, baking soda, and flax seed in a large bowl and stir.
In a separate bowl combine coconut oil, egg, egg white, almond butter, and almond milk, stir until combined.
Pour wet ingredients over dry ingredients and mix until batter is moistened.  Add dark chocolate chips if using.
Coat a muffin tin with non-stick spray and fill 3/4 full with batter. (makes 12 muffins)
Bake at 375 degrees for 15-20 minutes, until toothpick comes out clean
Peanut Butter Oatmeal Cookie Dough Overnight Oats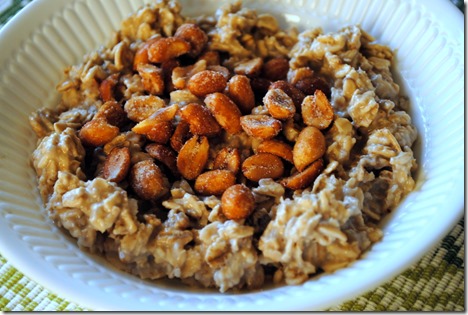 Ingredients
3/4 cup old fashioned oats
1/2 cup milk of your choice (I used unsweetened vanilla almond milk) + another splash in the morning
1 1/2 tablespoons peanut butter
2 teaspoons brown sugar (Honey or stevia will also work)
1 teaspoon chia seeds (Do not omit or the oats will not thicken)
Optional toppings: Honey roasted peanuts, fresh berries, shredded coconut, chocolate chips, etc.
Directions
Stir all ingredients together in a bowl
Allow the bowl to sit overnight in the refrigerator
In the morning, add a splash of milk and stir everything together again
Top with honey roasted peanuts, additional peanut butter, fresh berries, etc.
I found this recipe on Peanut Butter Fingers blog.