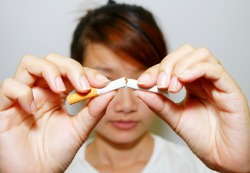 I remember when I found out that I was pregnant with my youngest son, I stumbled upon the pregnancy forum on Baby Center.  Baby center has a birth club for the birth month and year that my baby was due so that you could connect with mothers who were experiencing the same things that you were.  It almost seems like yesterday that I was busy surfing through the forums and counting down the weeks until my baby was born.  During those first few weeks, I saw countless posts about mother's who were frantic because they found out they were pregnant.  Most of these women didn't realize that they were pregnant until they were half way through their first trimester and they wanted to know how harmful cigarette smoking could be for their baby.  There is no right answer for this question because there are a number of various consequences for smoking during pregnancy.  Here are some possible examples of possible complications from smoking during pregnancy:
My baby was perfectly normal.
I had a miscarriage.
My baby had difficulty breathing after being born.
I had my baby prematurely.
My baby passed away from SIDS.
My baby was born early.
My baby was born with a birth defect.
My child had frequent ear infections and has asthma as a toddler.
Even if you smoked with a previous pregnancy, it is best to at least attempt to cut down or quit smoking all together.  Smoking deprives your baby of oxygen and can cause complications including death.  If you are currently pregnant, please talk your ob/gyn or midwife.  You want to have a support system and want someone there to encourage you.  Please continue reading my tips on How to Quick Smoking during Pregnancy at Uplifting Families.