Hi MBB readers!
I have received some emails over the past few months asking if I follow a "blogging schedule." In short, I haven't. I have always blogged according to what was on my mind that day. I finally went through all my posts and read over what I love to write about and have officially made a blogging schedule. Yes, I'm excited to even announce that. In all honesty, I can't promise to be exact all the time, but I will absolutely try my best. I work best when I have a schedule to follow so I feel like I'm setting myself up nicely.
Mama Monday, Tasty Tuesday, Going Green Wednesday, Kiddy Thursday and of course, Sunday Supper.
I will more than likely include a few "freebies" that don't go with the schedule but just float with me. This is new to me as well!
To start off our new schedule, today is Kiddy Thursday! Let the fun begin!
This project was really for my four year old son but my toddler enjoyed making this preschooler clock craft as well! Being a parent, I love watching how creative and detailed (or not) they are.
Materials:
Wooden Circle (preferably one that already has a whole in the back for easy hang up)
Foam paper (for hands)
Permanent marker
Paint (I used acrylic paint)
Nail (to put the hands on)
Step 1: Have your child paint the wooden circle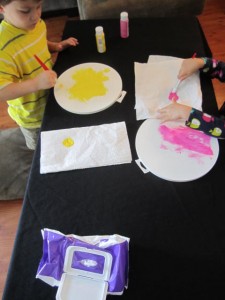 PS You may want to also have wipes on hand…for an easy clean up!
Step 2: While it dries, cut out clock hands using foam paper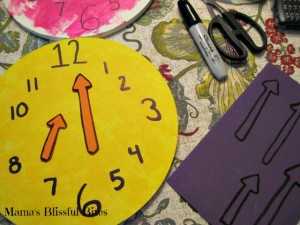 Step 3: With a permanent marker, write the numbers in. I wrote the 12, 6, 3, 9 in first so I had a better idea how the rest were going to look.
Step 4: After the base layer dries, place childs hand in paint and put in the middle of the clock. Remember to write the name and date on the back! This is your keepsake. I now have my babies hand prints, always.
Get more on this craft at:
http://www.mamasblissfulbites.com/2013/08/22/preschooler-clock-craft/