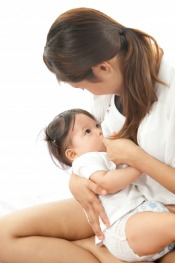 I couldn't believe some of the posts that I have seen where people were bashing nursing mothers for choosing to breastfeed her baby in public.  Most of the posts that I saw said that breastfeeding was gross and they were complaining that they were offended because they saw a mother breastfeeding her baby in public (mostly in restaurants).  When we were created, God designed our  bodies so that we could feed our baby.  A woman's breast were created for one purpose: feeding a baby.  As a mom, I think it is frustrating and crazy that humans have turned a women's breast into a sexual object.  As a breastfeeding advocate I often worry about new mom's, many probably don't realize that they have a legal right to breast feed their baby where ever they are and they don't have to cover up.
I realize that this post is probably going to ruffle a few feathers but it is intended to help educate new moms that they have a right to breastfeed in public.  Mom's who breastfeed in public are helping make breastfeeding acceptable and teaching other women and our daughter's that it is perfectly acceptable to breastfeed their baby in public.  
Check out my latest post: Breastfeeding In Public Helps Increase Awareness and Boosts Confide... at Uplifting Families.