I was asked a few weeks ago by Tiffany better known as "Mrs. Tee" atMrsTeeLoveLifeLaughter.  I have never participated in #ASKAWAYFriday and thought it would be a great way for my readers to get to know me better.  For those who don't know what #ASKAWAYFriday is, you exchange a set of 10 questions for another blogger to answer.  Below are 10 questions that Mrs. Tee asked me and I hope that you enjoy my answers.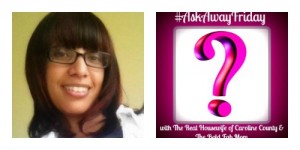 I have been a follower of Mrs. Tee's blog for a few months now and find her posts inspiring.  She married to her best friend and is a mother of 4 children and 2 stepsons.  On her blog she shares posts about her journey as a follower, wife, mom, and friend.
Read #ASKAWAYFriday With Tiffany at MrsTeeLoveLifeLaughter post to find out how I answered the questions that Tiffany asked me.  As a blogger I don't always share a ton of information on my blog about myself because I typically provide informational posts.