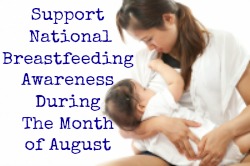 Breastfeeding was on of those taboo topics that people just didn't talk about when I was pregnant with my first child.  As a new mom, I knew right away that I wanted to try breastfeeding my baby.  My first experience with breastfeeding happened when my twin sisters were born.   I remember seeing my mom breastfeeding and knew that my body…
Continue
Added by Christy Garrett on August 7, 2013 at 9:20am — No Comments
It will be a busy month this August. I have a couple of projects to complete which is a MUST DO.
I've also joined two challenge a 29 day giving challenge and a 30day challenge to learn how to market myself properly via the internet.

On the home front I hope to successfully wean my younger boy in 2-3mths time so that everyone can get a better nights rest.
Added by Dominique Goh on July 31, 2008 at 10:49pm — No Comments